About us
History: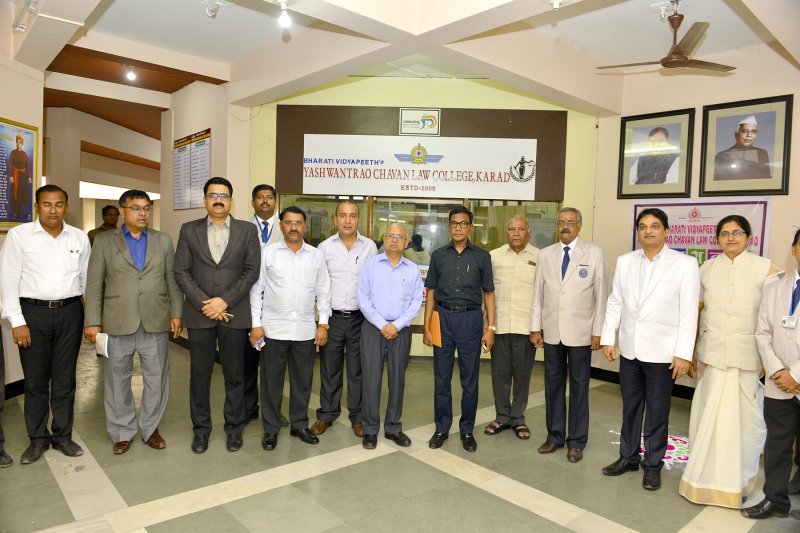 Bharati Vidyapeeth has established Yashwantrao Chavan Law College at Karad commenced from the academic year 2000-2001. The College is affiliated to Shivaji University, Kolhapur and is recognized by the Bar Council of India, New Delhi. It offers LL.B Courses in Three years and Five Years Degree in Law.

The College is located at Malkapur, Taluka - Karad of Satara District. It is spacious and it enjoys a calm amd quiet environment far from the maddening crowd of the city.

The college is proud to have an experienced and well qualified teaching Faculty.
Vision
Vision:
Bharati Vidyapeeth's Yashwantrao Chavan Law College is committed to meet the Educational, Social, Coltural & Economic needs of the region and the Nation.
To create a just and Human Society
To work hard towards making the noble profession of law a tool of social reformation
Mission
Mission:
We are dedicated to promote and foster the high quality teaching & learning and to serve societal needs by encouraging, generating and promoting excellence in Legal education.
Goals
Goals:
Commitment towards the spread of legal knowledge to everyone and especially to those who are socially and educationally under privileged
Dissemination of knowledge of laws and promote legal awareness in rural areas
To provide opportunities to students to reach his/ her highest professional capability
To create fine bond of capable young lawyers with great thrust of knowledge and provide social justice to the poorest of poor
To conduct legal aid camp & legal awareness programmes to motivate students to understand their social responsibilities and to know ground realities of village life
To develop the personality & character of students by value education
To exposure of law students to court proceeding and acquire best advocacy skills